A new Fortnite leak suggests a vehicle with a mounted turret will be coming to Fortnite in the near future.
Published
14 hours ago
on
A new Fortnite leak reveals that Epic are working on a car or truck with a mounted turret for Battle Royale and Creative Mode.
Epic Games continue to build on what they've added to Fortnite – pushing the boundaries of the mechanics of the game. This was never more evident than the BRUTE in Season X, which most fans considered a step too far for the developer.
Since the massive backtrack of Chapter 2 Season 1, Epic have been slowly added new weapons and items that build on the established foundation. Mythic weapons and hero abilities were accepted by the community where they likely wouldn't have been pre-Season X.
Now, according to Fortnite data miner VastBlast, it looks like Epic are planning on adding a new vehicle to Fortnite with a mounted turret – news that probably would've shaken the community a year ago.
Turrets have already had a run in Fortnite as one of the most powerful and least powerful items in the game. The post-nerf turrets were almost always left on the ground, but the pre-nerf turrets could decimate an entire squad.
Now, we're staring down the barrel of a mobile turret, which could be an interesting and fun addition. We already have trucks that allow passengers to shoot, so a mounted turret seems like the obvious next step.
Of course, this is just a leak and could never end up coming to the game. If it does, it could be isolated to Creative Mode where Epic are openly expanding their catalog.
Time will tell, with this one. If we do see a mobile turret in Fortnite, we probably won't get it until after the Operation Snowdown event concludes, so we have a few more weeks to mentally prepare.
A new Fortnite leak suggests that we'll soon be able to trade with NPCs, buy Supply Drops, and more.
Published
11 hours ago
on
December 21, 2020
A new Fortnite leak suggests that Epic could be adding features to NPCs in the future, including the ability to buy your loot for gold.
The NPCs, quest system, and Gold Bar currency have been the biggest additions to Fortnite Season 5 outside of the new locations. It was a fresh take on the existing format, borrowing some elements from other popular titles.
So far, the Gold system has some strengths and weaknesses. The new currency makes buying Exotic weapons feel like a privilege, rather than something you see in every game.
On the other hand, upgrading weapons can be a chore with the removal of Upgrade Benches, requiring you to spend a lot of Gold and search for specific NPCs.
Leaked NPC services coming soon
As expected, Epic haven't finished tweaking the Fortnite NPCs and what they offer players. According a leak from Hypex, we may see some added NPC services in the near future.
The two that Hypex mentioned by name were the ability to buy loot from players and to call Supply Drops for 600 Gold.
600 Gold might be a little steep, but the idea of selling a Legendary Pistol to an NPC for some extra funds is a great one. Supply Drops would be random, but they'd give you a guaranteed healing or mobility item if you're desperate.
Both of these concepts could come to the game in the future, and they show us that Epic are working on future services for NPCs past Season 5. It looks like these characters are here to stay – at least, for a while.
Operation Snowdown is the upcoming challenge set for Fortnite Winterfest 2020. Here's what to expect, including free skins.
Published
3 days ago
on
December 18, 2020
Fortnite Winterfest 2020, AKA Operation Snowdown, is almost here. Take a look at all of the upcoming challenges and how to complete them.
In Fortnite v15.50, Epic added the first part of the upcoming Winterfest update. This included some challenges that should become available in the next few days.
Thanks to data miner iFireMonkey, we were able to take a look at what we'll need to do this holiday season.
Here are all of the challenges we need to complete for the Operation Snowdown missions.
Deal damage with Lever Action Rifle (100)
Complete Operation Snowdown Quests (9/12)
Place Top 10 with friends in Squads (3)
Travel 5,000 meters in X-4 Stormwings
Shoot down opponent structures with X-4 Stormwings (10)
Collect Gold Bars (100)
Catch a Snowy Flopper
Revive a player in different matches (3)
Hide inside a Sneaky Snowmando in different matches (3)
Play duos/squads with friends (5)
Stoke a campfire (2)
Use Chiller Launcher to apply icy feet to opponents (10)
The challenges offer a variety of free rewards, from Back Bling, to sprays, to weapon wraps – all with the holiday theme attached. They offer a great way to grab some holiday cosmetics if you don't have some, already.
Another free skin will be available when players finish 12 quests as well. Unlike last year, the Frost Squad skin will probably be a popular one after the winter event ends.
If this list is accurate, then there are 16 Operation Snowdown challenges in total, meaning that you can pick and choose the easier ones to complete. We may not be getting no-strings-attached skins like last year, but a free skin is a free skin.
We're writing this before the challenges are released, so make sure to check back for a full guide then they come to the game. We'll keep you posted.
According to a Fortnite leak, Green Arrow will be the next skin bundle included in the Crew subscription.
Published
7 days ago
on
December 15, 2020
The January Fortnite Crew skin has been leaked in v15.10. Green Arrow will be coming to Fortnite.
In Season 5, Epic introduced the Fortnite player base to the Crew system, a subscription that offers players 1,000 V-Bucks, access to the current Battle Pass, and a skin set for $10 per month.
The first month of Crew, December 2020, was undoubtedly a smash hit. They provided players with a brilliant skin set and access to the new Battle Pass – making it a great deal for anyone who needed V-Bucks.
In the first patch of Season 5, v15.10, data miners found the next Fortnite Crew skin pack: Green Arrow.
The pack will include the Green Arrow skin, the quiver back bling, and a boxing glove pickaxe. It might not be as generally beloved as the Galaxia skin from December, but it will be worth it for the many Green Arrow or DC fans.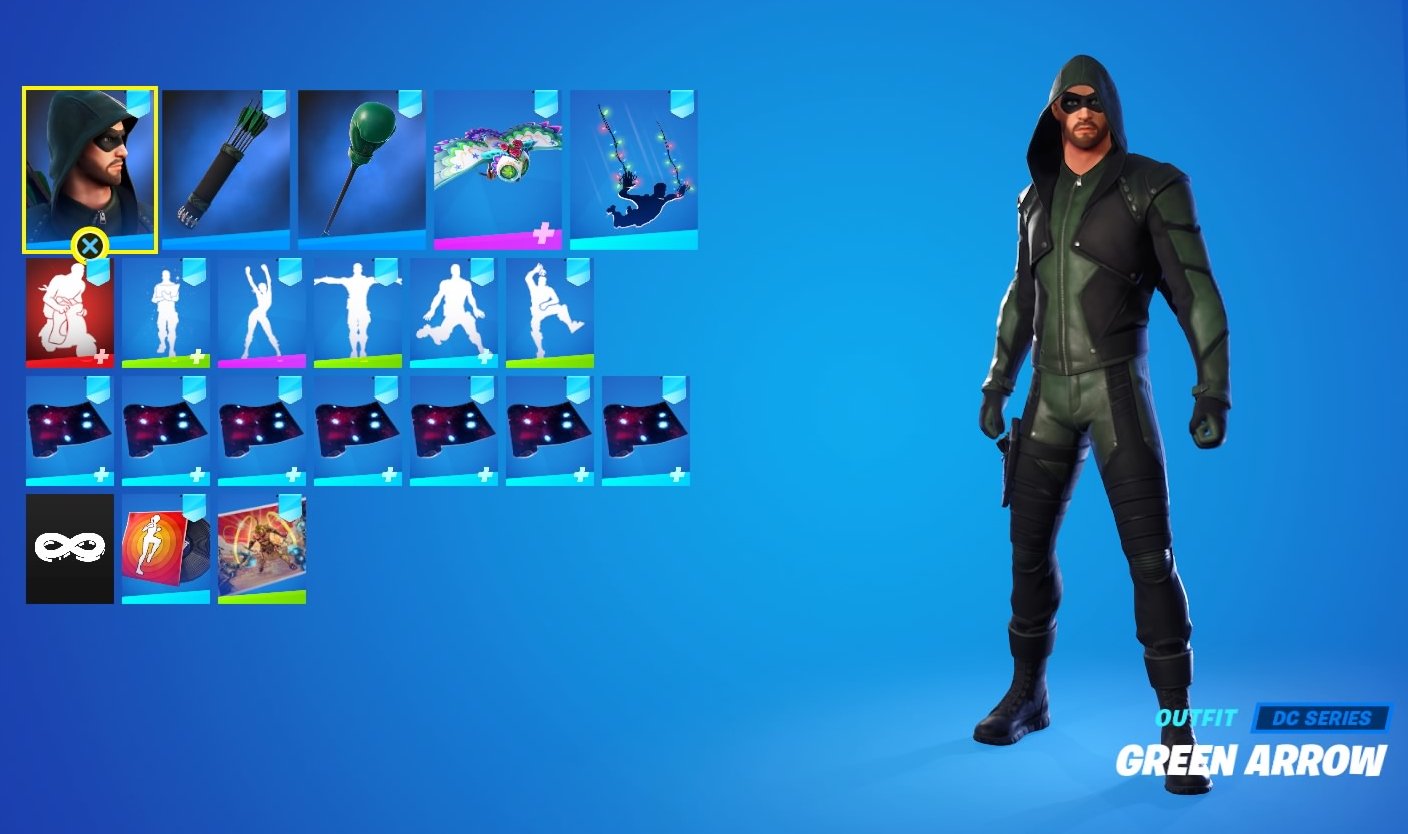 We'll need to see whether or not subscribed players stick around for this one. We purchased the Crew subscription for the Battle Pass with plans of canceling it after a month. Green Arrow might not be enough to keep us around, but we'll see.
For those who play Fortnite every day and regularly spend money on skins, the Crew subscription will undoubtedly be a good deal. Epic is setting the stage for a worthwhile subscription system with a few good skin sets out of the gate.
Leak via: arusaurZ_YT